Russell Brian Goodman: Cavell in transcendentalisti: od Julliarda do Waldna in onkraj
Torek, 6. april 2021 ob 20:00
Aprilska edicija »Filozofije v matrici«, spletne serije dogodkov, ki jih organizira Slovensko filozofsko društvo, bo postregla s predavanjem o Cavellovih refleksijah ameriške transcendentalistične tradicije, ki ga bo pripravil prof. Russell B. Goodman, zaslužni profesor filozofije iz Univerze v Novi Mehiki. Profesor Goodman, ki je avtor več knjig, vključno z American Philosophy and the Romantic Tradition, Wittgenstein and William James ter American Philosophy before Pragmatism, se bo lotil vprašanja, zakaj bi filozof, kot je Cavell, ki ga v prvi vrsti zanima modernizem in Wittgenstein, napisal knjigo o Henryju Davidu Thoreauju in spisal vrsto esejev o Ralphu Waldu Emersonu. Dogodek, ki bo potekal v angleščini, se bo odvil na spletni platformi Zoom, v živo pa bo prenašan tudi na Facebook strani Slovenskega filozofskega društva. Moderiral ga bo dr. Tomaž Grušovnik.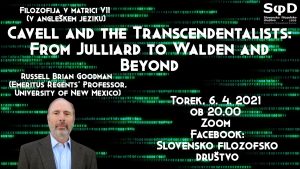 Russell Brian Goodman: Cavell and the Transcendentalists – From Julliard to Walden and Beyond
Tuesday, April 6, 2021, at 20:00 (8 PM) CEST (UTC+02), Zoom and Facebook
April's edition of »Philosophy in the Matrix« online events series organized by the Slovenian Philosophical Society will feature a talk on Stanley Cavell's reflections of American transcendentalist tradition by Emeritus Regents' Professor Russell B. Goodman from University of New Mexico. Prof. Goodman, the author of several books, including American Philosophy and the Romantic Tradition, Wittgenstein and William James, and American Philosophy before Pragmatism will take up the question of how and why a philosopher like Stanley Cavell, interested in modernism and Wittgenstein will come to write a book about Henry David Thoreau and a series of essays about Ralph Waldo Emerson. The event will take place on the Zoom platform and will also be broadcast live on Slovenian Philosophical Society's Facebook page. The event will be hosted by dr. Tomaž Grušovnik.